New Audi Q5 For Sale In Fall River

Introducing the New Audi Q5 in Fall River
A quality, feature-filled SUV is difficult to find. Thankfully, Audi has a quality offering that may fit the bill for many drivers in Fall River: the Audi Q5. It's a cutting-edge SUV that will impress even the most discerning driver with its useful features and capabilities. We have an everchanging stock of premium SUVs for sale in many trims and customizable packages. Please visit Mattie Audi if you'd like to take a closer look at what makes this SUV so appealing.
Due to ongoing parts shortage issues impacting global production, the availability of some equipment, options or features may be limited. Please contact your local Audi Dealer for more information, and be sure to verify the vehicle you purchase includes all expected features and equipment. Thank you for your patience as we work to navigate these limitations.
Technology
The new Audi Q5 comes equipped with an impressive set of technology features that make driving around Newport, RI a more comfortable experience. The dashboard-mounted touchscreen acts as the utility hub for the vehicle. You can access your smartphone's messages, contacts, media streaming apps, music libraries, and much more. Likewise, hands-free Bluetooth calling comes enabled by the touchscreen. This useful feature makes it easy to enjoy phone calls on the road safely. Aspects of the call, like volume and hold functions, can get controlled with voice commands. Many others parts of the vehicle, such as internal temperature and current song, can also change with voice commands, resulting in an extremely intuitive and modern experience.
Power
The Audi Q5 offers ambitious performance. The engine sports 362 horsepower and 369 pound-feet of torque, making it a powerful and reliable SUV for towing and hauling heavy equipment. It's fast; the Audi Q5 can go from 0-60 MPH in just five seconds. Overall, drivers near Taunton who want a powerful SUV capable of coming up to speed quickly, cruising smoothly, and acting as a standby trailer will feel satisfied with the Audi Q5 models on our lot.
Safety
High-tech safety features are becoming the norm for premium vehicles. Thankfully, the Audi Q5 delivers on this front by providing various useful safety features. Most of the included features take the form of smart technology fully integrated into the Audio Q5's processing system. Let's start by examining a few of these tech-based safety features.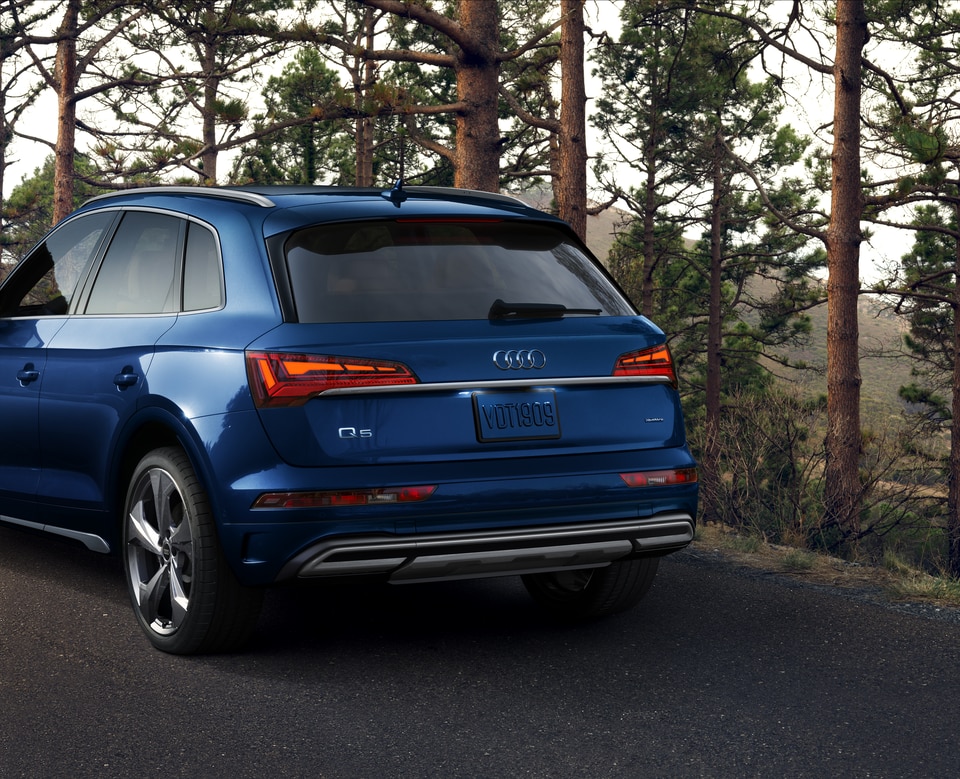 The panoramic, 360-degree camera will be an extremely appealing feature for drivers near Dartmouth. The camera provides a view of the entire area surrounding the SUV: sides, rear, front, and all other crucial areas remain covered. Perhaps the most impressive view is the available top view, which uses special technology to map your car in relation to the surroundings gathered by the camera. The algorithm-generated image then provides you with an accurate representation of your vehicle in relation to its surroundings. This new feature makes difficult parking jobs very simple by taking the guesswork out of the equation entirely.
Another useful safety feature is Adaptive Cruise Control (ACC). The technology monitors your cruising speed while heading down the highway and automatically adjusts it in accordance with speed limit data taken from satellites. Audi paired this technology with a feature called Active Lane Assist to increase the safety capabilities of the Q5 further. Active Lane Assist ensures your vehicle is always a set distance away from vehicles in front of you, even going as far as automatically assuming control of the braking system to guarantee a timely stop. This high-tech combination of features can make the Audi Q5 a great option for drivers who consider safety a priority.
The Q5 delivers on safety-focused hardware as well. Impact-resistant airbags, shatterproof windows, and military-grade steel framing make the vehicle highly resistant to collisions and damage.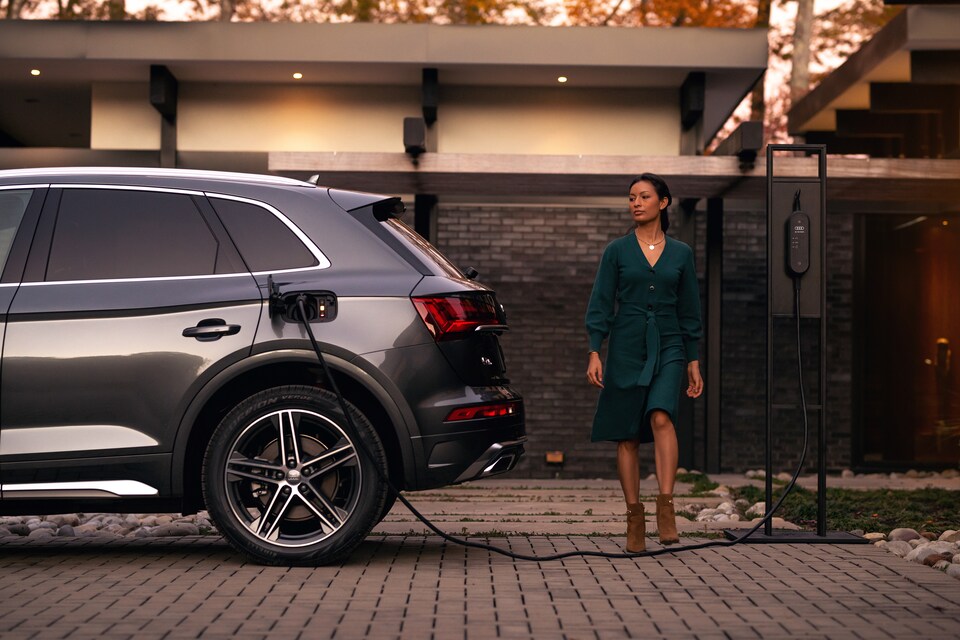 Trim Levels
The Audi Q5 comes with a few different packages. The Audi Q5 Premium acts as the basic package. It includes the standard features of the model, like quattro all-wheel drive and a dual-clutch transmission. The next trim is the Audi Q5 Premium Plus. It's essentially the same vehicle with the bonus inclusion of a leather-trimmed interior, virtual cockpit technology, and traffic alerts. Additionally, the Audi Q5 Prestige is the most premium model available for the SUV. It includes LED headlights, ventilated seats, and a custom high-definition sound system. All the mentioned trims have hybrid engine variations as well.
Our inventory changes frequently, so please visit our Fall River Audi dealership to browse our current selection. Our team is passionate, experienced, and excited to assist you in finding a quality vehicle.