New Audi Q3 For Sale In Fall River MA

The new 2020 Audi Q3: A vibrant new vision of what the compact luxury crossover can be makes its debut at Mattie Audi in Fall River, MA
When it comes to luxury cars, there's an enduring misconception that bigger is better. Now, there's no denying that if you look to luxury car dealerships around Newport, RI and Dartmouth, MA, there's plenty of large and luxurious models to pick from. But if you're more keen on driving something that's a bit more manageable in size, you should know that you won't have to give up on luxury and sophistication to get it. In fact, the new 2020 Audi Q3 is proof that premium luxury can come in a stylish and svelte package.
As a compact luxury crossover, the new 2020 Audi Q3 is the smallest model in the Audi SUV lineup, but it's still larger than most full-size luxury sedans, and more sophisticated in many ways as well. Accented by thoughtful design details, a comfortably appointed cabin, and a full volley of the latest in Audi technologies and convenience features, the new 2020 Audi Q3 is easy to love from every angle. And if you're looking for something that's chic and agile on the city streets, but infused with just as much love for adventure on the open road as you are, the new 2020 Audi Q3 should quickly rise to the very top of your wish list.
Design
Now, if there's one common refrain among the complaints that compact luxury crossovers are often faced with, it's that in many cases, the members of the segment trend toward a more "cute and quaint" styling sensibility. Now, that's not necessarily a bad thing, but when you're striving for premium luxury, "cute and quaint" is easy to dismiss.
Fortunately, the designers at Audi have deftly side-stepped that stylistic pitfall with the new 2020 Audi Q3, crafting a vehicle that's undoubtedly youthful and energetic, but infused with a sense of poise and athleticism that makes it hard to ignore on the roads of the greater Taunton, MA area.
Outfitted with keen design accents like its LED head and tail lights with dynamic indicators and the jaw dropping Q-design Singleframe® grille, the new 2020 Audi Q3 is a luxury crossover that can be taken seriously even when compared against its larger rivals. Plus, for those who want to stand out from the pack, it's got some stylish and bold paint schemes to pick from.
Performance
In many cases, compact luxury crossover are designed for urbanites on the move, but that can be a significant drawback. In some cases, these city commuter cars can feel a bit anemic on power delivery when taken out on the open road. Fortunately, that's not the case with the new 2020 Audi Q3.
Outfitted with a 2.0-liter turbocharged TFSI® engine that's good for up to 228 horsepower and 258 pound-feet of torque, the new 2020 Audi Q3 is eager on acceleration, nimble around corners, and all around engaging to drive. It's not an exaggeration to say that it's something we can guarantee you'll look forward to taking out on the roads of Fall River on a daily basis.
Plus, unlike many of its rivals, the new 2020 Audi Q3 comes standard with Audi quattro® all-wheel drive, making it ideal for taking on those cold and blustery New England winter months.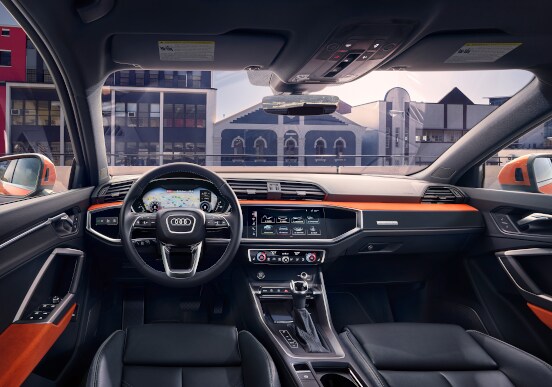 Interior Amenities
Ask many of the satisfied shoppers at our Fall River, MA Audi dealership what luxury means to them, and they'll undoubtedly tell you that the difference comes down attention to detail. Luckily, attention to detail is something that Audi has always excelled at, and the interior design of the new 2020 Audi Q3 is evidence of its prowess.
Spend some time in the cabin of the new 2020 Audi Q3, and we think you'll be hard-pressed to find something not to love about it. From its luxe and sporty leather-upholstery and heated front seats to the sliding and reclining rear seats that leave just enough room for both passengers and luggage, the new 2020 Audi Q3 offers a masterclass in designing an automotive interior that's equal parts stylish and functional.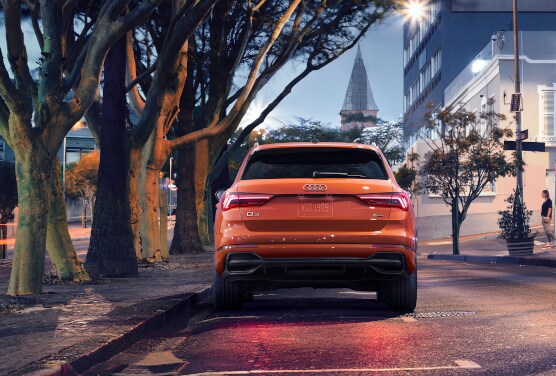 Technology & Safety Features
From smartphones to cloud computing, technology has become an inextricable part of our daily lives, so it's only natural that it plays a large role in the design of the new 2020 Audi Q3. For example, one of the first things many Newport, RI drivers remark on with the new Audi Q3 is its available Audi virtual cockpit plus display, an intuitive and adaptive 12.3 inch instrumentation cluster that gives you a high resolution view of all the information you need on the move.
On the other hand, one of the best things for Dartmouth drivers on the go are the innovative Audi safety systems operating just beneath the surface of the new 2020 Audi Q3. From Audi pre sense® basic and Audi pre sense® front with pedestrian detection to lane departure warning and rear cross traffic assist, the new 2020 Audi Q3 is always working overtime to ensure you and your passengers are safe and secure in your travels.
Take the new Audi Q3 for a test drive here at our Fall River, MA dealership
If you're at all interested in buying or leasing a new luxury crossover these days, you should make it a priority to check out the new 2020 Audi Q3. At Mattie Audi, we have all the latest trims to choose from, including the 2020 Audi Q3 Premium, 2020 Audi Q3 Premium Plus, and 2020 Audi Q3 Prestige. Get in touch with us to reserve your test drive today.