New Audi A4 For Sale In Fall River

Discover the New 2021 Audi A4
The Audi A4 is a luxury small car that is one of the top choices in its class. It has a high-end and well-designed interior, excellent performance that balances power with fuel efficiency, and a slew of advanced tech features. For a luxury car, its base price is not very high, so you are getting a lot for your money as you set out for a stylish drive through Taunton.
Due to ongoing parts shortage issues impacting global production, the availability of some equipment, options or features may be limited. Please contact your local Audi Dealer for more information, and be sure to verify the vehicle you purchase includes all expected features and equipment. Thank you for your patience as we work to navigate these limitations.
Performance
There are three total A4 engines to choose from. The base engine is a V4 with a turbocharger that gets you 201 horsepower. That's quite powerful for a small car already, so you can have an enjoyable, sporty experience with just the base engine if you want to save some money. The next engine up is also turbocharged, and it has 261 horsepower. It's a nice increase, and you will feel the difference when you hit the gas.
In either case, the transmission is an automatic with seven speeds, and it is nice and smooth. For the best performance, the top engine, restricted to a performance trim, has a big turbo V6 rated for 349 horsepower. That's an even bigger step up for power, and it changes how the A4 drives.
Interior
The A4 has a decent amount of cargo space in the trunk for a luxury car, and you can fold down the seats in the back for more room. The interior leaves enough room for Dartmouth passengers, and you can seat adults in the back row without any issues. Of course, it has a highly upscale cabin loaded with high-end materials like standard leather upholstery. This does more than just create an atmosphere of luxury. It adds comfort for passengers traveling through Newport, RI. Little touches like heated front seats in every model go a long way towards reminding you that this is a luxury car. It has a large and easy-to-use infotainment screen over ten inches across that has a clear layout, so you won't take long to find all the controls.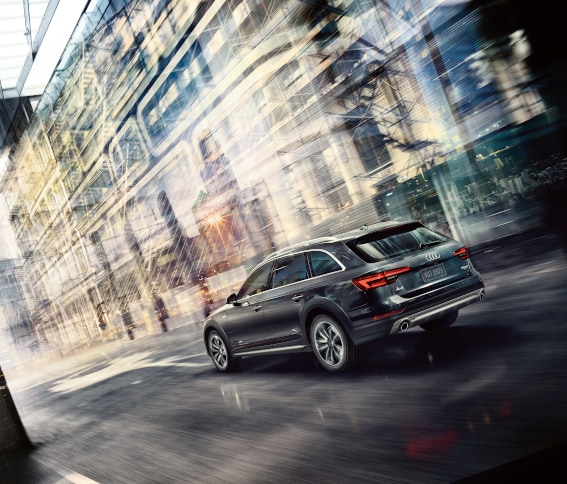 Trims
There are two styles for the A4, and they have the same three trims. The styles are A4, which uses one of the two lower engines, or S4, which uses the top V6 engine. For both, the first trim is the Premium. It has all the standard features discussed above, plus smartphone connectivity, USB ports, LED headlights, and more. You can add on a package of advanced safety features as well.
The second trim is the Premium Plus. It comes with a big list of automated safety tech, a surround camera system, a digital instrument cluster, and some more options, like ventilated seats, a sound system upgrade, navigation, and a boosted suspension. The top trim is the Prestige. It gets just about every feature in the lower trims, plus some exclusives like heated rear seats and traffic sign recognition. There are no extra options or packages for the Prestige.
The Audi A4 has a lot of practical appeal for Fall River commuters, but you will feel like you are indulging yourself when you get into it and drive it. Set up a test drive so you can see just how good it feels for yourself. Think about whether the S4 performance engine style is worth the money to you, which trim you want, and so on, and have fun with it.